Members Guide Pembroke Fitness Center to a New Logo
I wanted to take a moment to let all our members know we really appreciated the time taken to help us zoom in on our new logo designs. With your votes we were able to get a better understanding of what you see and like. That information gave direction we never had so thanks again!
Why are we Changing our Logo?
The question may have crossed your mind! Since the logo we are using is 20+ years old it was simply time but there are other reasons that also instigated our logo redesign. We would like to pass these reasons along in case you are also thinking about redesigning your logo for your business. Here are the main points we had in mind with our new logo.
Our Logo Redesign Must…
Appear New and Fresh– Since our fitness center has recently been upgraded with new equipment, fresh paint and many other features, we did not want our outdated logo visually representing Pembroke's longest standing fitness center. Out with the old— in with the new.
Be Scalable– The previous logo presented us with challenges that often made production difficult if not impossible. For example we wanted to get signs made for the fitness center. Our sign maker told us the logo would not scale up very well to look aesthetically pleasing. This problem surfaced several times over the years for applications like stationery, magnets and advertising.
Have Positive Impact- Our members and perspective members are most important to us. The redesigned logo was intended to deliver a more iconic and friendly representation of this 6,000 square foot fitness facility.
Show Individuality- Although we are located inside the BEST WESTERN Pembroke Inn & Conference Centre people visiting us for the first time were sometimes confused. To be clear we are located inside the hotel on the lower level but we are also a separate business. With this new logo we hope our location and relationship with the hotel has more clarity.
Illustrate Beyond Fitness- Over the years we have grown into a full team of certified fitness instructors with over 25 weekly fitness programs running at any given time. It wasn't like that in the beginning! It took hard work with dedication driven by passion to earn the hearts and minds of fitness enthusiasts of all stripes. Now we offer so much more such as Lifestlye and Weight Management, Indoor Tanning, Aquafit Classes, Spin Classes, Seniors cardio training plus much more.
These are the guidelines we gave our logo designer who developed 10 unique concepts.
Logo Concepts Developed
It was our intention to develop ideas for our members to look at and provide their opinions on. Here are the logo designs we presented to our members:
Voting Results
The contest ran from the middle of May until the middle of July, 2014. Here are the results: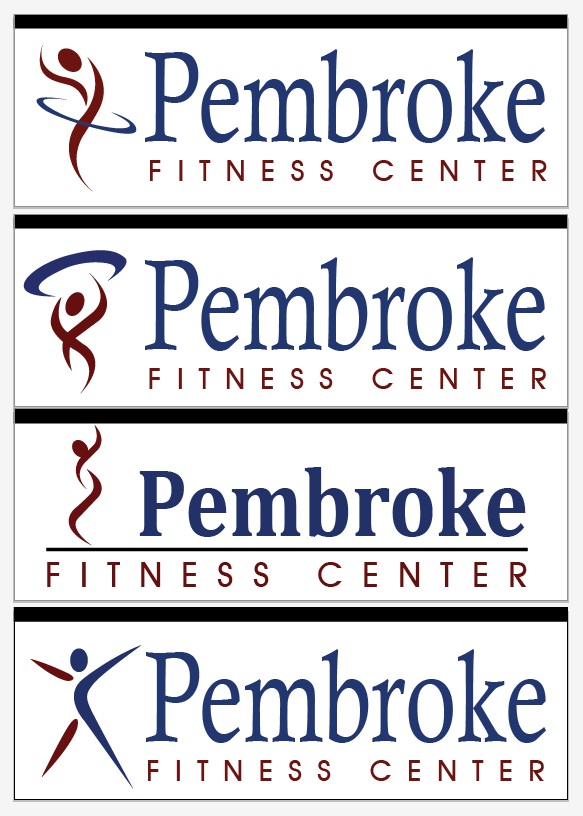 When we announced it on our Facebook page our members responded with some great feedback and opinions.
We ran a web-based voting system that permitted our members to choose which version they liked best and make comments. Here is the valuable feedback received:
Member's Top Logo Choices
Here are the 4 choices as chosen by our members: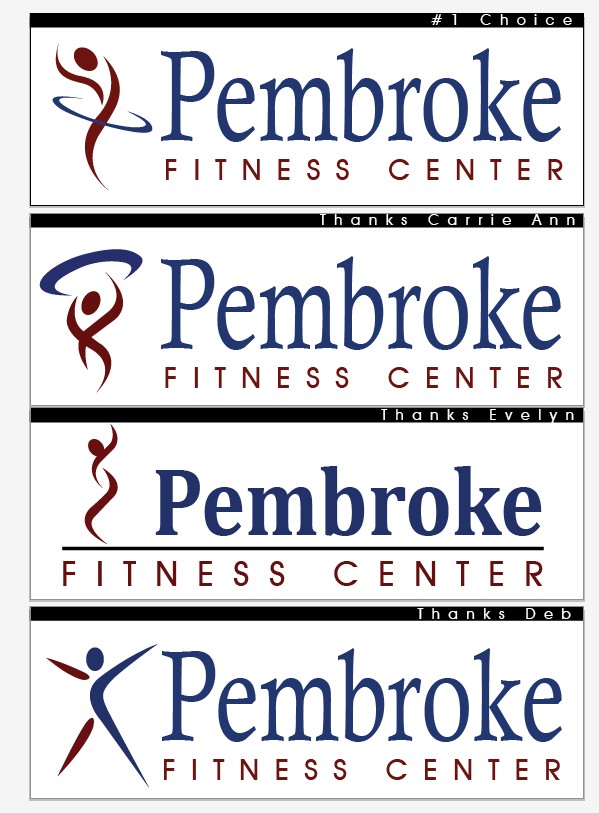 Some fitness members had some comments and feedback with their choices.
| | | | |
| --- | --- | --- | --- |
| First Name | Preferred Logo | Comments | Entry Date |
| Ellen | Version 1 | A hard decision! | 5/13/2014 18:51 |
| Chantel | Version 10 | Definitely version 10. | 5/14/2014 10:32 |
| Keith | Version 10 | Doesn't break up the flow. | 5/14/2014 14:31 |
| Donna | Version 10 | easy to read | 5/13/2014 16:18 |
| Mirianne | Version 1 | Great idea | 5/13/2014 20:38 |
| Lynda | Version 7 | I do actually like them all, I really like 4, 7, and 10. I like 7 the best because of the font that Pembroke is in, I do also really like the color choices | 5/13/2014 12:08 |
| Carrie Ann | Version 10 | I like version 10 but i would switch the stick figure with version 7. When the "o" is accentuated it makes the broke in Pembroke seem bigger, and we all know the joke about broke 🙁 | 5/13/2014 10:50 |
| Ron | Version 7 | I like version 7 because for a change | 5/13/2014 17:08 |
| Evelyn | Version 1 | I might use the person hovering over the o in version 4 instead of dumbbell as hard to tell it is dumbbell. | 6/9/2014 17:23 |
| Barb | Version 4 | I really like the ones with the banner saying fitness center under! Good job | 5/13/2014 8:43 |
| Brent | Version 10 | It's clean, sticks out and modern! | 5/13/2014 17:37 |
| Patricia | Version 7 | My first choice is version 7 and if it comes down to a tie, I also like version 10 as a second choice. | 5/13/2014 8:40 |
| Deb | Version 10 | The first is good but may leave impression just a weight room. I prefer 10 but it would be better if figure was more neutral than feminine. | 5/14/2014 7:50 |
As a result of this wonderful feedback we decided to modify the existing versions exactly as our members have suggested. Below you'll find the modified versions directly resulting from member's feedback.
Members Top Pick

Creating a new logo for your business can be fun and very insightful especially when you ask your customers to help. After-all, they are the reason you are going through this exercise. The next time you are thinking about redesigning your logo consider leveraging your social networks of connections. Invite your clients in to vote and offer valued opinions that you may never have considered.