The pool will be closed for the following hours for Aquafit
Tuesday: 10:30 – 11:30 AM
Tuesday: 1:00 – 2:00 PM
Wednesday: 10:30 – 11:30 AM
Wednesday: 1:00 – 2:00 PM
Thursday: 10:30 – 11:30 AM
Thursday: 1:00 – 2:00 PM
Friday: 10:30 – 11:30 AM
Regular Pool Hours
Monday to Friday: 7:00 AM – 10:00 PM
Saturday: 8:00 AM – 8:00 PM
Sunday: 8:00 AM – 7:00 PM
Fitness centre opens 1 hour earlier.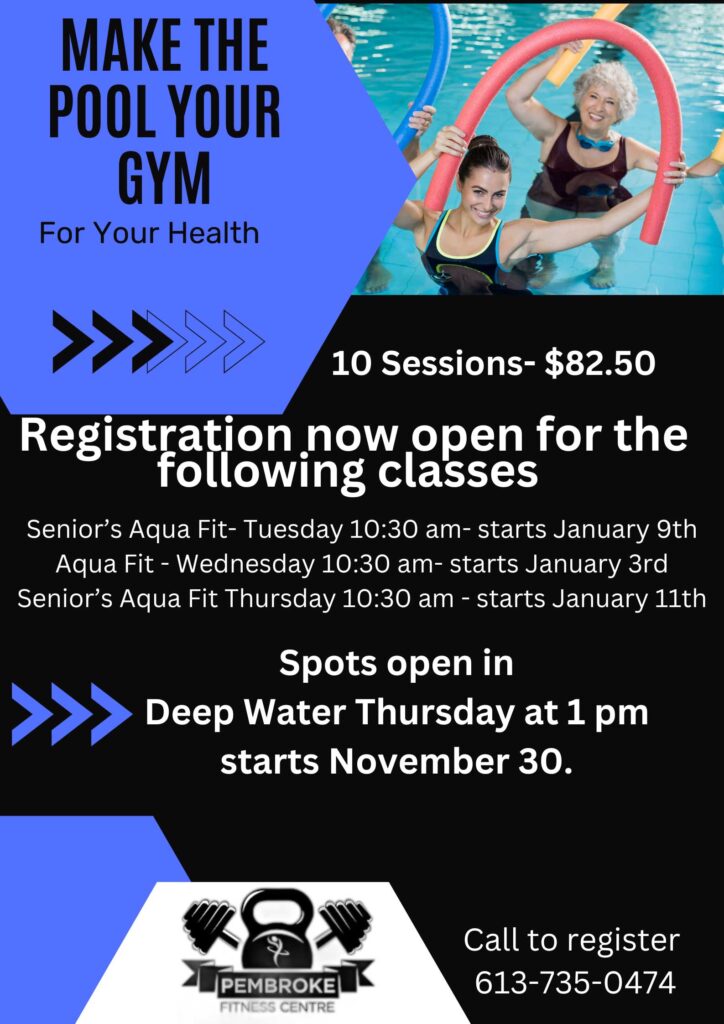 Aqua Fit Classes
Aquafit is a form of resistance training that is used to improve muscle tone and cardiovascular fitness. It helps you balance out muscle groups that may have become uneven through repetitive actions. Working out in water provides equal resistance through your full range of motion.
Aqua Fit Class Types
Aqua Boot Camp
This water workout consists of aerobic, strength training and flexibility to improve strength, speed, balance and power. The class is full of fun and energizing activities. There is no choreography so the class is easy to follow. The instructor may do stations or group boot camp to mix it up.
Aqua Flow
Try out our invigorating and therapeutic Aqua Flow classes. They start with exercises to improve your cardiovascular fitness. The second half of the class consists of strength and flexibility. This non-impact class will leaving you feeling great.
Aqua for Seniors
Aqua fit is an ideal form of exercise for seniors because it's low impact. This class will help you reach your fitness goals while easing muscle and joint pain. The workout designed for the older adult includes cardiovascular, strength, flexibility and balance training.
Aqua Advanced Deep Water
Experience the benefits of exercising in the deep water. This class designed for people that are comfortable in the water. It's a dynamic total body work out including cardiovascular, strength, flexibility and balance exercises.
All equipment is provided for the above classes.
Aqua fit classes can help improve your performance in several activities; including running, dance, and team sports such as soccer or softball. Thanks to the buoyancy of water, you'll be strengthening your muscles and improving your cardiovascular fitness without subjecting your body to additional wear and tear. This low impact exercise will leave you feeling strong and refreshed when it's time to give your all.
That's why aqua fit is also fantastic for Senior's and anyone recovering from injuries. It allows you to strengthen your muscles without stressing vulnerable joints.
What a Perfect Gift!
AquaFit programs are low impact but have significant health benefits for men women of all ages. That's why we think AquaFit classes are a great gift for anyone, especially mom and dad!