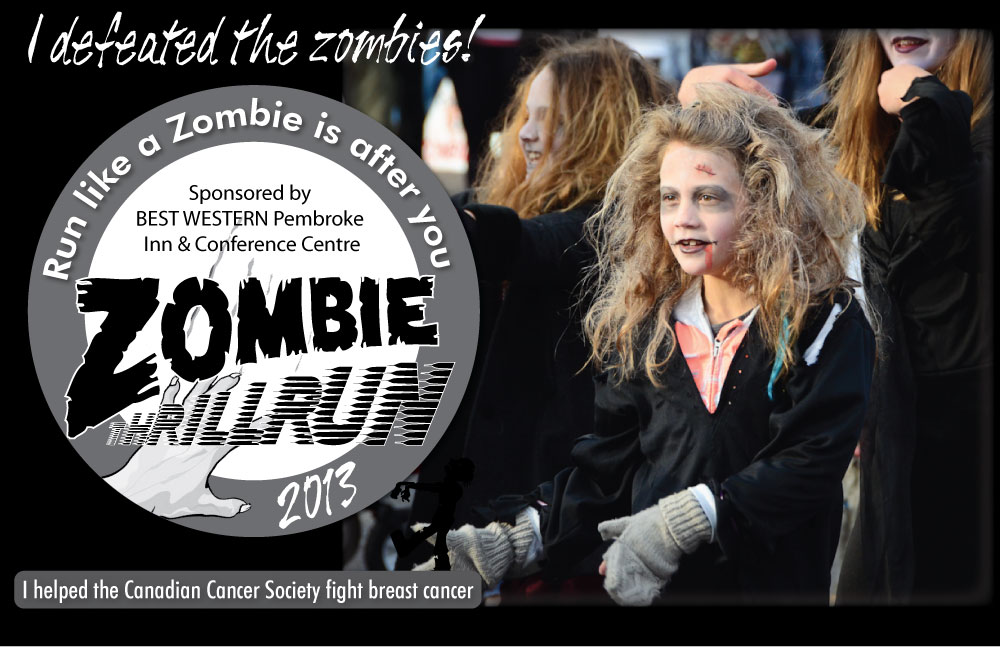 Pembroke's 1st Annual Zombie Thrillrun Raises over $18,000
Our first annual "Zombie Thrill Run" in support of Breast Cancer was a HUGE SUCCESS!
Over 350 participants raised over $18,000.00 with auction and coffee money still to be tallied. For the first Zombie Thrillrun all expectations have been exceeded. It was a wonderful, fun filled day for the un-dead.
The support we had from the community was overwhelming!
The media we received for the event was fantastic.
The volunteers and Zombies were outstanding.
Our event has received nothing but positive feedback from the participants, volunteers and spectators.

At first glance it appeared like another episode of Evil Dead with Zombies lined up at the starting gate. Each race started with a spectacular flash mob performed by a local dance studio.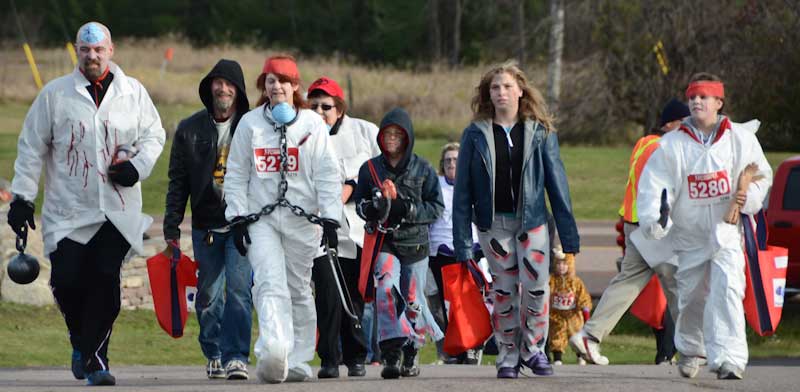 Special Thanks To…
To the Zombie Thrill Run Committee for the tireless hours they put into the event
To Frances M Lemke Insurance for purchasing the medals for the participants
To all the sponsors
To all the volunteers, it's people like you that help make a difference
A huge "thank you " goes out to all the participants
Our Major Sponsors
Frances M. Lemke Insurance
Sunsign Graphics
Running Room
Best Western Pembroke Inn and Conference – t shirt sponsor
Pembroke Mall
myFM
KM Sponsors
KI Pembroke
State Farm – Stewart Ray
Cassidy's Transfer and Storage
Pembroke Mall
Pembroke Golf Club
Campbell Monument
Hebert Screen Print and Trophy
Dr. Glenn Hanniman – Optometrist
Neville Funeral Home
Culligan
Robinson's Auto Centre
Prize Sponsors
Most Money Raised Sponsored by Dr. James Gallant, The Pembroke Lumber Kings, Santa Fa Restaurant
Fastest Runners Sponsored by Gear Heads and the Best Western Pembroke Fitness Centre
Auction and Refreshment Sponsors
The Hen House
Thirsty Beaver
Silpada
Clouthier Construction
Giant Tiger
Charles and Louise Dupuis
Westwinds Restaurant
Alia
Tim Hortons – Jason Mcleod
Enbridge
Canadian Tire – Pembroke
Canadian Tire – Cambridge
Melton and Fraser Flowers
Lebine Printers
Buns Master
National Grocer
Total Look Hair Design
Valley Work Wear
East side Mario's – Pembroke and Arnprior
Smitty's Home Hardware
Lusha Designs Sportswear
Boston Pizza
Marlin Travel
Kelsey's
Food Basic's
Mulvihill Drug Mart
Pharma Plus
Sandstone
Wave Optical
Shopper's Drug Mart
Thia Asia Restaurant
If you want to learn more about this exciting day of the undead in support of breast cancer, please visit The Daily Observer (Pembroke's Community Newspaper).
We also have over 800 photos and a professional video that should be ready in the next few weeks.  Once they are ready we'll post them right here on our website.
Thank You to all for making this event SO SUCCESSFUL!