The Super Heroes (staff) of Pembroke Fitness Centre were excited to be a part of the Super Hero Run for Cancer Care, May 6th downtown Pembroke. To many of our members, Pembroke Fitness Centre trainers are Super Heroes everyday in the gym so it was fitting to assume these roles in a fundraiser. Additionally, since 1995, our team has proudly raised well over $500,000 for various fundraising events. It is our passion to help build a better community in and around The Ottawa Valley.
This year's fundraiser raised over $46,000 for Cancer Care at the Pembroke Regional Hospital. The 2k family fun run/walk and the 5 km timed run saw double the participation than in 2022.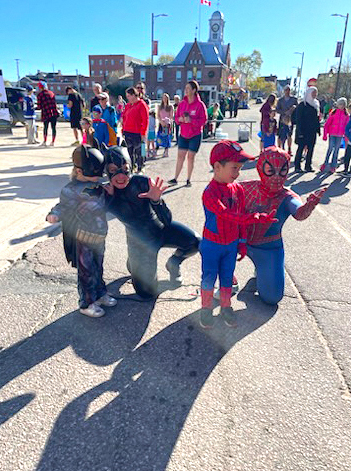 As part of the organizing committee, Tammy Blackmore got to see first-handed, the hard work of the amazing group of individuals and volunteers that put this event together. Great teamwork for a great cause!
The excitement on the children's faces as they were greeted by their favourite Super Hero had to be a highlight of the event.
Congratulations to the organizing committee, participants, Super Heroes, sponsors and volunteers on a job well done.
We can't wait for the Super Hero Run 2024 that will take place May 2024.
Tammy Blackmore
Fitness Director