Certified Nordic Walking Fitness Program
Starts Monday, October 21 at 1pm

Requirements: 60 minutes/week – 5 week program $36.75
What are The Benefits of Nordic Walking?
Walk your butt off using Nordic Walking Poles
A full body workout
Burn 40% more calories than regular walking
Reduce knee and joint stress
Improve your posture
Boost oxygen consumption
This walking exercise has multiple health benefits!
It's a total body workout that can be leveraged by athletes and non-athletes. Specially designed poles (supplied) help maximize the effect on your fitness level while seemingly not taxing your body. But don't be fooled by the effect, your body is shredding those calories!
It can be therapeutic for a wide range of health conditions, including fibromyalgia, Parkinson's disease, multiple sclerosis, cancer and diabetic peripheral neuropathy.
Your Instructor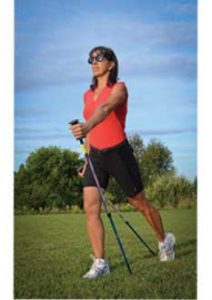 Certified in Nordic Walking and Rehab Nordic Walking